---
Structured Products Team
Managing price risk on physical commodities with financial instruments requires experience to do it right. Businesses prefer to focus on their operation rather than the intricacies of hedging with derivatives.
Oahu Capital's structured products division has an experienced team who will devise tailored risk management strategies for our clients' unique needs. This offering uses both exchange traded and over-the-counter (OTC) like products to create meaningful alternatives to some of the basic hedging strategies typically employed.
Click image to enlarge

Exchange Cleared Products vs. Bilateral OTC
Exchange Cleared products do not require a credit department or credit review process
Exchange Cleared products allow clients to trade with anyone (central clearing)
No counter party risk (bilateral: risk of default)
Security (not dependent upon counter party)
Margin (pay to play vs credit)
All products are mark to market and margined on a daily basis
---
Why Exchange Cleared Products on CME Clearport/ICE vs Futures?
Products align more with producers and end users
Monthly average products correlate better for hedging price risk (effective vs ineffective: FASB)
Futures hedge is based upon last trading day price
Futures have a delivery component on expiration
Monthly average products are financially settled (no delivery)
---
OTC Exotic Products
Unique hedging portfolios require unique solutions - we've got just what you're looking for.
Oahu Capital is proud to offer clients access to a 24/7 over-the-counter (OTC) desk through our Structured Products Division. These OTC products are designed as a tailored risk management solution for commodity based consumers and producers. This risk management tool complements our existing product offering, allowing end users and producers the ability to customize their hedges through a tailored product offering.
Click image to enlarge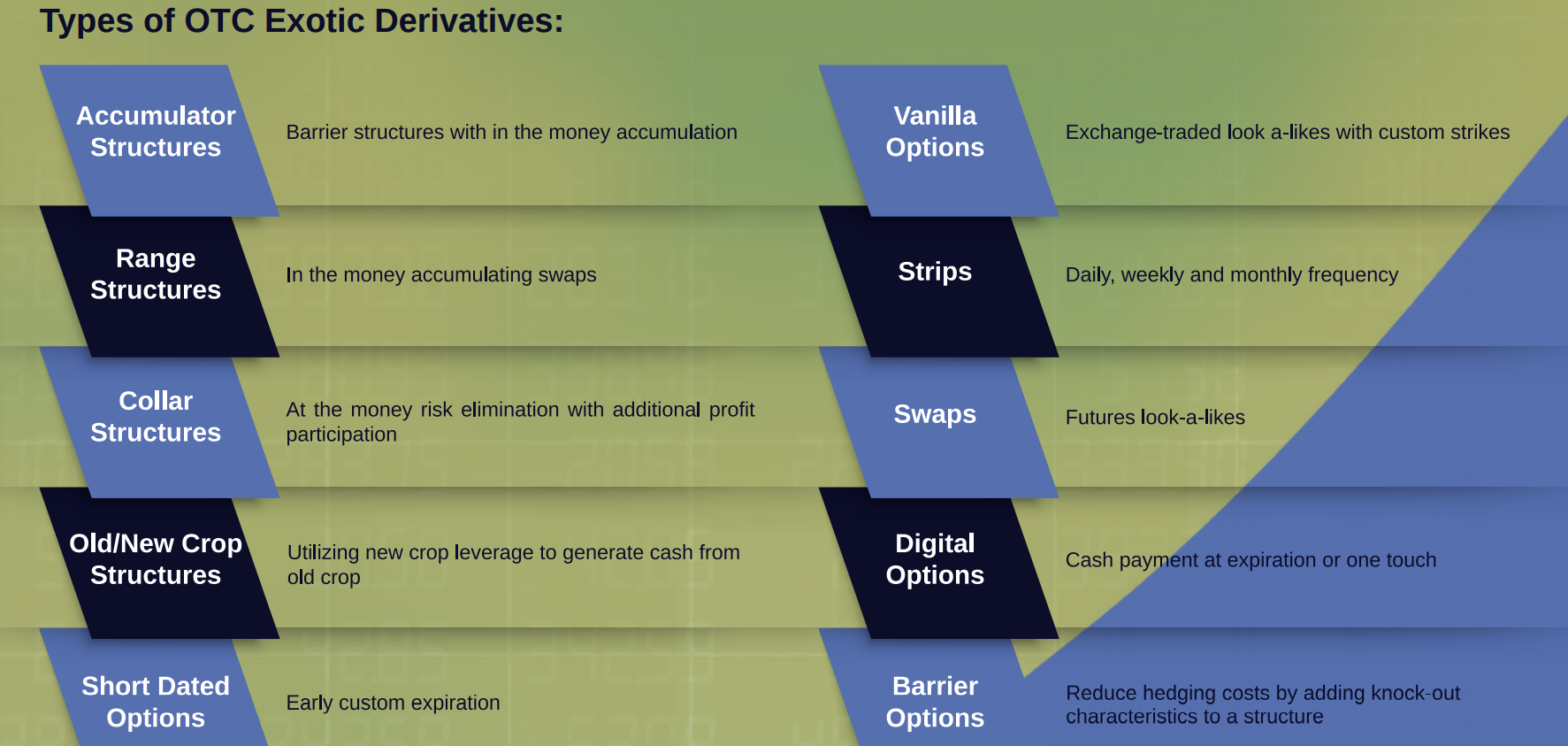 OTC Exotic Structured products are agreed upon contracts between two counterparties that allow full customization and creativity to meet your risk mitigation needs. Exchange-traded options have fixed strikes, expirations, and characteristics that create many layers of limitations. This complimentary tailored risk mitigation approach allows for a fully flexible hedging tool used to enhance profit margins for all risk profiles.
Our team works directly with you to identify your unique risks and needs and then develops a tailored strategy around those needs, thus limiting your exposure to price risk.
Click image to enlarge

These products can vary from swaps that function like classic futures and options, to structured products which use multiple products or contracts to achieve specific targets.
---